R Atkinson Fox 1920's "Garden of Contentment" Art Deco Drescher Co Print NR yqz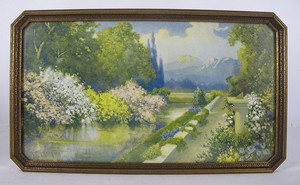 ---
Welcome to Estate Auctions Inc!

We are one of the Leading Sellers of Antiques, Collectibles and Quirky items on . We have been selling since 1998 and are proud to announce that we have maintained a 'FIVE STAR Detailed Seller Rating'. Our staff always strives for 100% customer satisfaction, reflected by our 100% positive feedback rating. We work with consignors from coast-to-coast and around the world, working hard to make sure we provide top quality items.

We are 'Your Quality Zone' - search 'YQZ' to see our other listings. Note: YQZ® is a registered trademark of Estate Auctions, Inc., LLC and can only be used with the express written permission of Estate Auctions, Inc., LLC by associated entities.

See Other Listings R Atkinson Fox 1920's "Garden of Contentment" Art Deco Drescher Co Print NR

Gilt Frame ~ Listed Artist (1860 - 1935)

In this auction we have an Art Deco R. Atkinson Fox print titled "Garden of Contentment", printed by John Drescher Co Inc, of New York, ca. 1920's. Robert Atkinson Fox was a Philadelphia artist who produced more than 1000 works of art. From 1900 until his death, millions of the artist's color photo-lithographic reproductions prints were consumed by the American middle-class, which is what we have here for your consideration! Displayed in a gilt frame that measures approx. 11-1/2" by 19-1/4" with a sight size of 17-5/8" by 9-5/8". Not examined outside the frame, we found no apparent defects to the artwork and only light display wear to the frame. So see our many photos to capture all the details! A great piece to add to your R Atkinson Fox collection! GOOD LUCK! Robert Fox (1860 - 1935) as found on Askart Robert Atkinson Fox was active/lived in Pennsylvania, Illinois / Canada. Robert Fox is known for Landscape, western view, genre painting, illustration. Fox

...keep scrolling there are 13 pictures and more description beneath the photos below!Click on any photo to see it in its original size in a separate tab.

was born in Toronto, Canada, in 1860, but immigrated to the United States somewhere between 1885 and 1890. A prolific painter, he worked as an artist both in Toronto and in the United States and appears to have enjoyed great commercial success during his lifetime. He worked for various publishers, including Brown and Bigelow of St. Paul, Minnesota, Edward Gross & Co. of New York, Master Art Publishers, Chicago, The Red Wing Advertising Company, and the Thomas D. Murphy Co. of Red Oak, Iowa among others. Fox studied in Canada and Europe prior to arriving in America. He was the pupil of J W Bridgeman at the Ontario Society of Artists in Toronto. He exhibited at the Philadelphia Art Club in 1898. His work appeared as art prints, calendars, advertising pieces, ink blotters, candy, handkerchief and jewelry boxes, magazine covers, children's books, newspaper inserts, postcards, puzzles, thermometers, and numerous other forms. Fox was a generalist. He could paint basically any assignment given to him by a publisher, he frequently painted from memory, aided by sketches, sometimes finishing a painting in a day's time. Many of his original paintings were oil on canvas. His subjects included landscapes, probably the most collectable today, to enchanted gardens, country-sides, cottages, animals and pets (was a leading painter of cows, but also painted horses, dogs, sheep, bears and foxes). His diverse subject matter also includes women, Indians and Indian maidens, the Wild West, historical and contemporary themes, hunting and fishing scenes, adventure, ships, and historic figures such as Washington, Lafayette, Franklin and Theodore Roosevelt. Although many of his prints bear the signature R. Atkinson Fox, many unsigned and untitled exist, due to the cropping of the print when framing it. Fox used at least 26 known pseudonyms, and perhaps 18 more were used. Fox married Anna Gaffney in 1903. They lived in New Jersey until about 1924, when he moved his family to Chicago and continued his work until his death in 1935 at the age of 74. R. Atkinson Fox has been called a "Parrish imitator" because of the similarities of many of his popular works to illustrator Maxfield Parrish. Yet many other artists of the time also attempted to capitalize to meet the needs of the public. However, few other artists of this time went on to provide the volume of work and diversity of subject matter as R. Atkinson Fox. Relatively little was known about the early 20th Century artist Robert Atkinson Fox until the early 1980's.

The Calculator is not always right - if the shipping looks too high email us and we will give you an accurate quote prior to the auction ending.

Estimated shipping weight, (packaged) is 4 lbs 6 oz

in a 24 x 16 x 5 box

Facts about Estate Auctions Inc. and Your Quality Zone crew

We are a team of full & part time professionals.

Intensely trained to maximize your experience in and around .

Headed by our founders Norb & Marie Novocin

Our divisions include: Buying, Inventory, Photography, Research & Listing, Shipping, Transportation, Programming & IT

We have been on since 1998!

We have had over 190,000 sales on .

Estate Auctions, Inc. has over 37,000 unique positive feedback ratings

We maintain a five-star rating and have a 100% Positive feedback,

with over 20,000 repeat buyers!!

When you are in Your Quality Zone, you can bid with confidence!

Please note: We put up a very ecclectic collection of items and are not experts in every area, so descriptions are our best detective work as to what something is. While we research each item to the best of our ability, it is the buyer's responsibility to know what they are buying.

Check back everyday to see our latest offerings! We put YQZ in each of our titles so you can search our items easily.

We also take quality consignments. Please email us for more information.

We are Trading Assistants - We call sell items for you!

Terms Of Service

Selling on has been our primary focus since 1998. We uphold and instill the value of treating all of our customers as if they are family.

Our company motto is to "Be courteous, promptly answer e-mails, be fair in all our dealings, and try and make friends of each and every customer."

Unfortunately, in today's market with 's rating system and the never ending rate increases in the U.S. Postal & other carrier rates, we need to define and explain our methods of business.

ONE - Who We Deal With

We sell and ship worldwide to anywhere, so please email us for a quote to wherever you happen to be.

TWO - Tracking

We are required to put tracking on every package, even if it raises the cost of shipping it.

THREE - Shipping Charges

We charge shipping based on the USPS system. We will sometimes ship via courier if we can get it to you within the same time frame or faster. We add a reasonable cost for materials and handling. Our materials cost is based on exactly what it has cost us to wrap similar sized items in the past. We realize that almost everything we sell is valuable to you and there is nothing worse than having something break in its final journey to your hands. We do our best to pack properly and use the correct materials to protect your win. If we are able to get the item to you for less than our quote we will refund the difference to you!

For oversized items or items that will take special attention to package, (building a crate, wrapping many small items individually, etc.), we ask you to email us for a quote on shipping prior to the auction ending. If you do not, we charge the same amount as if you did.

FOUR - International Shipping

We charge shipping based on the USPS international system. The rates follow the same guidelines as number 3 above, though for international customers we add an additional $1.00 to cover the extra paperwork involved in international shipping. If an amount goes over $100 in value we will only ship it with Priority or Express Mail, regardless how small an item. That allows for us to have international tracking. We have to include tracking even on First Class Mail, so we can not just throw something in an envelope and stick a stamp on it.

FIVE - Insurance

's policies no longer allows us to charge the client for insurance. However... we still apply insurance to any item that goes over $27.00 in value. We reserve the right to use the insurance carrier of our choice. Sometimes that is Postal or the Carrier's Insurance and sometimes that is a private insurance company such as DSI or U-PIC/Shipsurance. If we use a private insurance company the package will not be marked insured, though it will be covered.

SIX - Methods of Payment Accepted

We abide by 's rules and try and stay abreast of their changes. We accept Paypal. Paypal also accepts the major credit cards, or we also take Credit Cards Directly over the phone, (MC, VISA, DISCOVER, AMERICAN EXPRESS, CARTE BLANCHE, DINERS CLUB, JCB) Bottom line, whatever method is most convenient for you.

SEVEN - Time Frame To Pay

We ask all auctions to be paid for in the fastest possible time frame. (This is all we do for a living and we need the money to pay the bills and buy more unique and fun items to put up on ). If an item goes unpaid we report the transaction to to recover our fees, this counts as a strike against the winning bidder unless they step forward and pay.

EIGHT - Shipping Time Frame

We make every effort to ship in a timely manner. We are listing tons of items, and are just plain swamped, so we have to schedule a special time to pack and ship. We ship on a first paid, first shipped basis. (We do not ship any item until it has been paid and the funds have cleared.) With the ebb and flow of payments we manage to get everything out of the door within one week. If there is a rush, we will make every effort to work with you in getting it out of the door faster. As you can see from our feedback, we do not disappoint. OF COURSE, items that need special attention, crating, etc adds to the time frame of those items.

NINE - Local Pickup

Sometimes it makes sense to come by and pickup your items. Sometimes an item is just too big for any other option. If you've arranged local pickup with us, you must pickup the item within 30 days otherwise it will be subject to storage fees and/or relisting. Storage fees for items begin one month after being won, and the fee consists of $5 per item or 10% of the value, whichever is greater, each month it is stored. If the storage of the item exceeds 11 months or exceeds the overall purchase value, the item will be ours to resell in order to recover the storage fees.

TEN - Communication

Please feel free to contact us at anytime, with any question or comment. Unless we are out of town, we make an effort to answer all emails as quickly as possible.

Follow Us

Facebook

Twitter

Copyright 2016. Estate Auctions Inc., LLC YQZ® Antiques. All Rights Reserved.