VINTAGE Hammered Roycroft Hand Made Copper Candle Stick Holder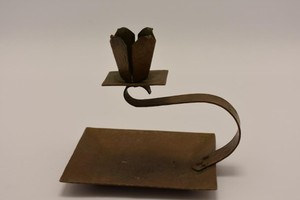 ---
Please click on item description or "read more" to view full listing as well as pictures. I do combine shipping on orders shipped within the U.S.A, please request total when done bidding, and we do not do buy it now's. See full listing for complete details. I CANNOT COMBINE SHIPPING ON INTERNATIONAL ORDERS BECAUSE OF THE GLOBAL SHIPPING PROGRAM!! VINTAGE Hammered Roycroft Hand Made Copper Candle Stick Holder VINTAGE Hammered Roycroft Hand Made Copper Candle Stick Holder

Click images to enlarge

Description

I hope that the photo's can tell you everything you need to know about this item. If not, please message me with any questions you may have.

 

Please understand I am not a collector, and the items I sell are from way before I was born  :)   PLEASE READ BELOW FOR INFORMATION ON HOW TO GET COMBINED SHIPPING!!!!!

Payment I only accept paypal. We do not offer "Buy it now." The owner wants all items to go through auction.   Shipping

I do combine shipping!! (EXCEPT INTERNATIONAL ORDERS SEE BELOW) Please contact me when you are ready for a combined invoice Or send a request for invoice. DO NOT PAY UNTIL YOU RECEIVE THE UPDATED INVOICE! I do not have it set up to automatically combine the invoices because 's system tends to over-charge on shipping. Combined shipping is based on the total amount of weight of the package.  If you do not contact me for an invoice will charge you shipping for each item individully. I will ship whichever way is the cheapest, as I do not like to pay a lot for shipping either when I shop on line. I will not meet anyone local for delivery's. This is for my safety as well as my children's.

 

Global Shipping:

 I ship using the global shipping program. This program will not allow me to combine shipping unfortunatly. 

 

Packaging:

I have shipped thousands of items over the years. I am very experienced! Please check my feedback!  Paper Items are mailed in Kraft Stay Flat Stiff Mailers!  Anything 3oz or less mailed in these envelopes or bubble envelopes are considered a thick package, which is why shipping is $3.00 on certain items. Please research for yourself to see that this is indeed true before fussing about high shipping costs! I don't like it anymore than anyone else, but there isn't anything I can do about it. I want your item(s) protected from damage during shipping so I use the best packaging materials I can find to do so and find anyway possible to ship it as cheap as possible. I DO NOT MAKE MONEY ON SHIPPING.  Returns: 14 day return policy, buyer pays return shipping. WE DO NOT DO PARTIAL REFUNDS. If an item is returned, buyer will be reimbursed for price originally paid for item and originial shipping paid when item was won.

About Us

Please know that I am not a collector of any sort. I am a stay at home mom, that sells for other people. I have been selling on for 7 years. If you have any question please ask! I will do my best to help! 

 

At the moment I am selling for one man who is cleaning out his collections. I will be listing new items every week so please keep checking back, follow me, or sign up for the newsletter! As I stated before, I am a stay at home mom, so the kids pretty much determine my work schedule!

Contact Us If there is a problem with your order, please let me know before opening a case with . I will do my best to fix it. If in the event your item arrives damaged, please send me a picture and a message and I will take care of it. Please know in advance, that I DO NOT DO PARTIAL REFUNDS. Please see shipping section for details on returns.
| | |
| --- | --- |
| Get images thatmake Supersized seem small. | Tailor your auctions with Auctiva'sListing Templates! |
THE simple solution for sellers.

Track Page Views WithAuctiva's FREE Counter