VINTAGE 3 PIECES OF PINK LINGERIE SLIP- BRA- GARTER BELT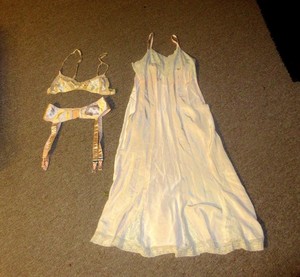 ---
OFFERED FOR AUCTION ARE THESE  VINTAGE 3 PIECE PINK LINGERIE SLIP- BRA -GARTER BELTLIGHT PINK PICTURES DO NOT DO JUSTICE TO THE COLOR. A VERY PRETTY LIGHT PINKALL IN GOOD SHAPESLIP HAS LACE AT TOP & BOTTOMYOU WILL LOVE THIS  

 SHIP ON  Monday through Friday  feedback and rate the shiP ping time remember that this.  

represents how quickly did I ship your item to you, not how quickly did the post office deliver it to you. Please remember I have health issues and will try to have in mail within 5 day of payment.

According to E-Bays new rules method of payment should be Paypal, if this is not good for you please let me know I am sure we can work something out!!! PAYMENT EXPECTED WITHIN 7 DAYS AFTER THE AUCTION ENDS. IF PAYMENT IS NOT RECEIVED AFTER 10 DAYS, I RESERVE THE RIGHT TO RELIST MY ITEM AND RECOUP MY FEES BY FILING A NON-PAY BIDDER FORM. (I UNDERSTAND THAT THINGS HAPPEN AND IF YOU NEED MORE TIME PLEASE EMAIL ME AND LET ME KNOW) EVERY THING I SELL COMES FROM EITHER YARD SALES, ESTATE SALES, OR LOCAL AUCTIONS. I HAVE NO IDEA IF THE PREVIOUS OWNERS SMOKED OR WERE PET LOVERS.

If you receive an item that the condition you feel is different than what I have shown in the pictures or have described in my ad and if you contact me within three days after it is delivered, you can return it for a full refund.